How Do You Use Koenig Polish?
Whenever people see a live demonstration of the power and versatility of Koenig Polish, the first question they inevitably ask is, "what else can it do?" That's a great question, but a better one to ask is, "what can't it do?"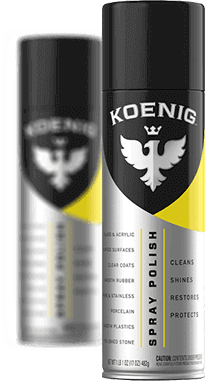 When we introduced our product to the market nearly 20 years ago, our goal was to create a single formula that was versatile enough to replace the need for an entire cabinet full of car cleaning products. But versatility was not our only concern – the stuff had to work – it had to outperform all of the products it was replacing, or it simply would not be worth using.
Initially we were thrilled with the versatility of our product and the more we heard from our customers, the more we learned they not only love Koenig Polish for its ability to clean, shine, restore and protect their cars, but also for uses inside the house that we never even considered!
Over the years, our customers have shared hundreds of unique household uses for Koenig Polish with us, from polishing stainless steel appliances to sealing granite countertops. But the kitchen isn't the only room in the home you can clean with Koenig.
Koenig Polish is the only thing you need to clean your entire bathroom from top to bottom. It easily handles caked-on residue in sinks, showers, tubs and toilets while restoring mirrors, windows and metal finishes to a showroom shine.
Show Us How YOU Use Koenig Polish
For years, our loyal customers have been sending us email and posting on social media with new and innovative ideas for using Koenig Polish. Once they saw firsthand how well it worked on cars, trucks, RVs and boats, they began a quest to see what else the stuff could clean and polish - and now new uses are popping up all the time!
We love hearing from customers about the success they have had with Koenig Polish and we're always excited to see all of the creative ideas they inspire. Best of all, we love being able to provide our customers with a single product that allows everyone to clean like a professional – in a fraction of the time and a fraction of the cost.
Now we want to hear from you! What are some of your favorite use for Koenig Polish? Have you used it in your car, or on your boat? Perhaps you are using it for a completely different reason than you originally intended? Do you love the way it makes your windows and mirrors shine? Have you tried sealing your granite countertops? Let us know! We would love to see how you clean with Koenig.
Leave us a comment below and be sure to subscribe to our YouTube channel for all new ideas and applications that you may have never even considered. Finally, please consider signing up for our email list for exclusive promotions and offers. And remember, Koenig Polish is not available in stores. Click here to order directly from the manufacturer.